The Quail Creek Air Gun Club is a a chartered club within the Quail Creek community.  The club conducts a monthly indoor pistol match in the Madera Clubhouse Silver room.  A monthly outdoor rifle match is conducted at the outdoor range, near the Quonset hut.  Both of these matches are announced by email.

Quail Creek residents are welcome to participate, and any interest or skill level is welcome, including spectators.  Our goal is to develop airgunning as a hobby and fun group activity for our community.  This activity also promotes safe gun handling skills and a better understanding of airguns in general.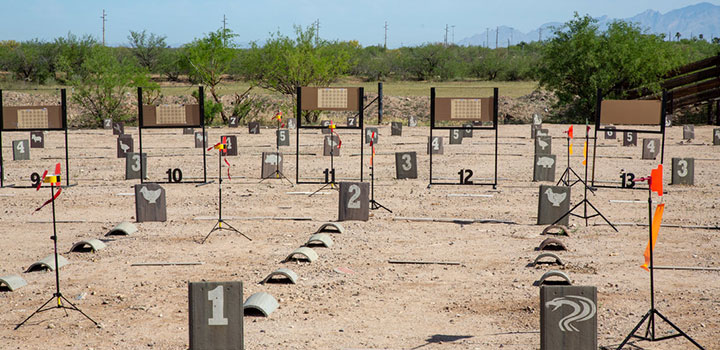 Facilities Locations and Activities
There are three regular shooting locations designed for air gun use only; no firearms are allowed at any of these locations. Violators will be prosecuted to the full extent of the law.
Indoor Pistol Matches 
Indoor pistol matches are conducted in the Silver Room of the Madera Clubhouse. Matches are typically the second Saturday of each month at 10 AM and are normally pistol only. Matches are announced by email prior to each event.  Indoor matches are shot at 7-10 yards onto a variety of paper targets and from any shooting position.
Outdoor Rifle Range
The outdoor rifle range is located on Campbell Road, about ¼ mile beyond Green Valley Fire Station 155, on the same side of the road.  Access is through a latched but unlocked gate which allows vehicle access.  Please make sure the access gate to this range is closed at all times as this property is also used for cattle and horse grazing.
The outdoor match is conducted typically the third Saturday of each month, and match time varies with time of year, earlier in the heat of summer, and mid morning in the cooler months of the year.  Matches are announced by email prior to each event.  Outdoor matches currently include both benchrest and metal silhouette, and are shot from 10 to 75 yards.  There are a total of 20 permanent shooting lanes with target stands and benches in place for precision paper target shooting, and platforms installed for silhouette targets as well.  Silhouette targets are stored at the range and are available for club members to use when at the range.
Indoor Range
The Small Quonset Hut Indoor Range is also located on the Campbell Road property.  This range allows 7 yard pistol shooting within the building onto a variety of paper targets, and can be extended to 10 yard shooting out the back of the building.  No matches are currently conducted here, but the facility is available at any time for resident use.  Please leave the facility as you found it, and make sure all doors are closed and secured when you leave.
Airgun Safety
All club sanctioned matches are controlled by a Rangemaster and each match starts with a gun handling safety review.  The outdoor range and small Quonset hut range are available at any time for resident use; please use common sense safety when shooting by yourself.  If more than one person is using any of our facilities at the same time, one person should take the role of rangemaster and control use of the range for the safety of all.
Other Airgun Activities
Many of our members also shoot airguns at home, especially in the garage.  We have designed a simple inexpensive backstop target stand that works very well, and can share the details with anyone interested in making their own target stand.

Club members periodically take road trips up to Phoenix to visit the airgun stores, etc. and this also helps newcomers see and handle the latest airguns as they consider their purchase.  Please let the Rangemaster know if you are interested.

Members are also available to help anyone select the proper equipment, install scopes, sight in new rifles and pistols, select the correct pellet for their airgun, and help develop trajectory plots which are necessary for reliable, long range airgun shooting.