Green Valley Golf Cart Rentals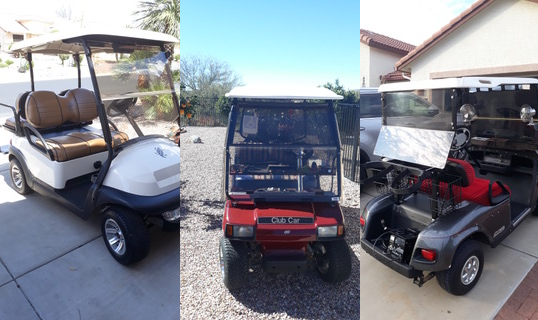 Contact
: Martin Ralph
Phone
: 925-642-3131
Email
:
martinwibben@yahoo.com
Located in Quail Creek
Excellent carts for all your needs. 2 and 4 seaters available starting as low as $15 a day; $100 a week; and $390 a month plus tax and cleaning; 4-seater is slightly higher. Ask about our 'non-maintenance' option.
Contact: Martin Ralph at 925.642.3131 or
martinwibben@Yahoo.com
. Reservations are confirmed only once contracts are signed and the company has received a check. 2444 E. Overview Lane, Green Valley, AZ 85614 Make checks payable to Green Valley Golf Cart Rentals. Remember, it gets very busy inside Quail Creek so get your reservation requests in early to hold your cart!
Golf club rental available for both men and women, right-hand only.