Affordable Handyman Services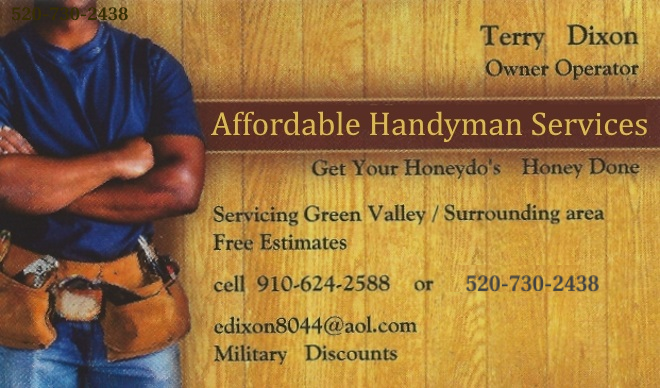 Contact
: Terry Dixon
Phone
: 910-624-2588 or 520-730-2438
Email
:
edixon8044@aol.com
Located in Quail Creek
Get Your Honeydo's Honey Done!
Free estimates, no job too small
US Army Vet offering military discounts
Services
Light plumbing, i.e., garbage disposal, toilet replacement & repair; hot water heater, faucets, bath and kitchen; replace dishwasher & microwave.
Light electrical work, i.e., ceiling fans, lights, add electrical outlets, replace GFI
Install screen rooms; 
Replace screen and rollers in windows & doors.
House watch service
Errand service
Quail Creek resident with over 30 years experience
Not a licensed contractor.